Stiär Biär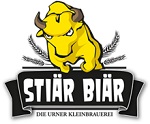 Founded in 2005
Moosbadweg 14
6460 Altdorf



078 769 94 50
#212



900 hl
8
12.25

Brewer: Udo Zimmermann.
After a promising start in 2005 the 2 brewers, Max Herger and Mario Muther decided to go professional. The production stopped and the brewery started again on May 15th 2010. The goal is to reach 1'500 hl within 3 years and to conquer the canton's market. An agreement with Heineken has been made for the distribution.
Their german-style beers used to be very good, but I'm not so sure nowadays.