Frequently Asked Questions ... with Answers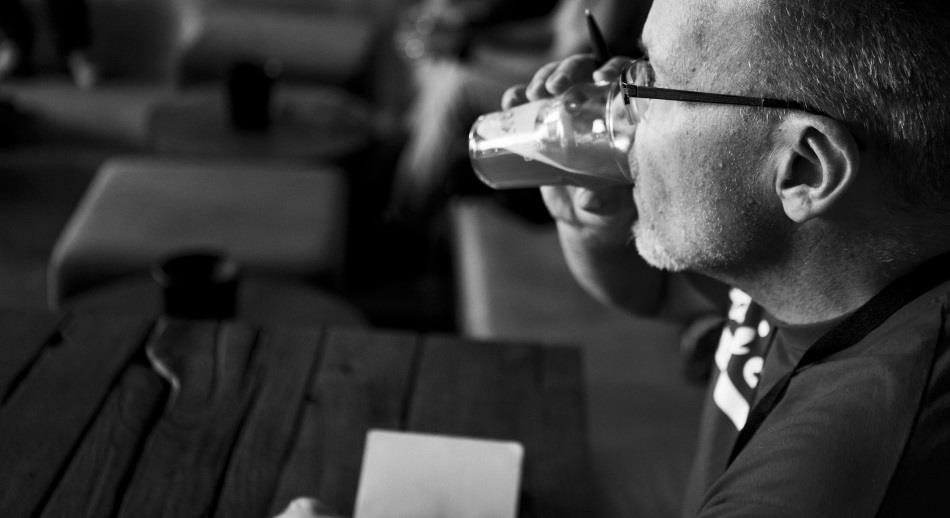 A fine beer may be judged with only one sip, but it's better to be thoroughly sure
- Czech proverb -

Being faced with recurrent questions about my beery passion, I thought it was time to address them all together. Here we go! What are you doing exactly ?

Well, it is quite simple: I find a new beer, I drink it, I rate it. What I do not do: I do not keep the bottles (would no doubt be funny but imagine the space needed!) neither do I collect caps nor labels. You can call me a beer hunter, beer rater, beer geek, beer ticker, a scooper or a manic collector if you want. I for myself prefer simply beer hunter. I do not consider myself a beer expert. Of course 35 years of beer tasting have left behind some traces of knowledge but as I know at least one more knowledgeable person in my hometown what should I pretend to ? :-) And after all, this is a hobby, not a job. Nevertheless, I have been invited several times as a beer judge at national and international competitions (see more details at the botton of this page).

Why do you have such a strange hobby? Are you crazy or sick ?

This is another easy question to answer: just because it's fun to me! Regarding the sickness, notorious beer scooper Gazza Prescott has found similarity between beer ticking and the Asperger Syndrome (AS). The 'AS' is described as follows: 'Individuals with AS can exhibit a variety of characteristics and the disorder can range from mild to severe. Persons with AS show marked deficiencies in social skills, have difficulties with transitions or changes and prefer sameness. They often have obsessive routines and may be preoccupied with a particular subject of interest which usually leaves no space for more age-appropriate, common interests. Some examples are cars, trains, French Literature, door knobs, hinges, cappuccino, meteorology, astronomy or history' Surely an interesting comparison which may have some truth in it. I, for myself, do not know enough beer tickers well (only two dozens or so) so cannot really tell how true this is. But the guys I do know surely don't have social skills deficiencies, quite in the contrary.

How many beers have you rated and when did you start ?

I have now sampled more than 22'000 beers from 189 countries. I started back in July 1987 during a trip in Belgium where I realized for the first time that beer was not just a pale golden, fizzy and tasteless liquid.

22'000 beers ? Jesus, you must be the guy who has sampled the most beers in the world!

No way! Apart from some professional beer writers there also are many amateurs who have sampled more beers than I have. English beer ticker Brian 'The Whippet' Moore (49'100, December 2011 and nowadays over 65'000) and danish ratebeerian Jan Bolvig (67'000, August 2022) are probably at the top. Beer ticking apparently began back in 1975 when Mick The Tick started with it. This activity has then dramatically increased with the growth of microbrewing and the creation of websites such as RateBeer, Beeradvocate or Untappd. Ratebeer lists 14 people (the top 4 being from Denmark) with more than 30'000 beers. On this site, which started back in 2000, the number of raters having sampled more than 2'000 beers in one year is now higher than 50 ! And the leaders are rating 5'500 to 7'000 per year ! So you can see that my own score is a pretty minor one.

Are there really that many different beers in the world?

Yes and the number is growing every day. The ratebeer database contains about 650'000 entries (including retired ones). If the real number of beers available at a given time is, of course, impossible to spot, I think it could actually be something close to 600'000.

Waouhh: you have rated 8000+ beers from Switzerland. You must clearly be the top beer hunter in your country.

No, Thomas 'the Tank' Schneider has reached 9'000 beers from Switzerland in April 2022. But I'm working on it :-)

What is your record in one year and in one day ?

On the graph below you can see numbers of beers I've sampled every year since 1987.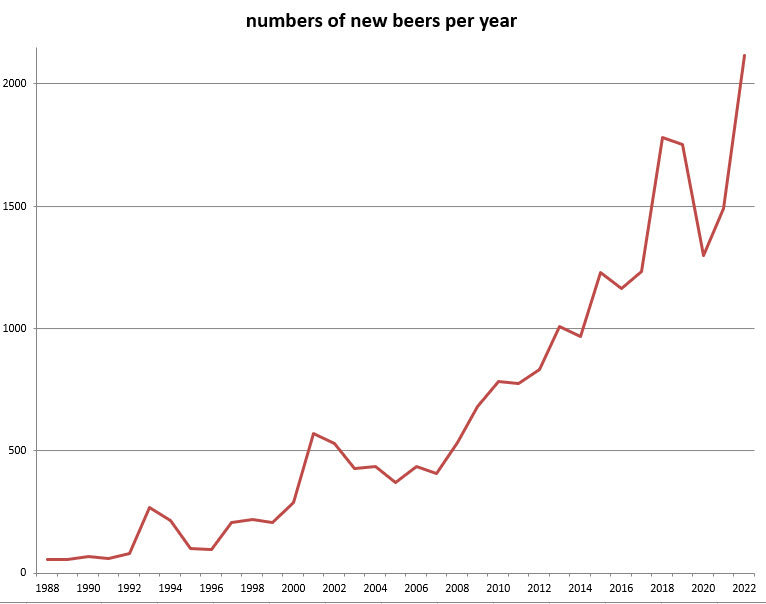 My record in one year is 2'116 (2022). In one day? 68. But this was definitely an exception. I am not the kind of hardcore ticker able to sample more than 100 beers in one day. The usual tasting sessions with friends offer between 25 and 35 beers and a solid festival visit will be between 30 and 40. I consider this to be very much the upper limit, if not sometimes beyond my ability to judge a beer.
Where do you get your beers from ?
This is a good question and one I was asking myself for a few years. To get an accurate answer, I am noting the source of each beer I had since 2009. So here are the results for 2009 and 2013: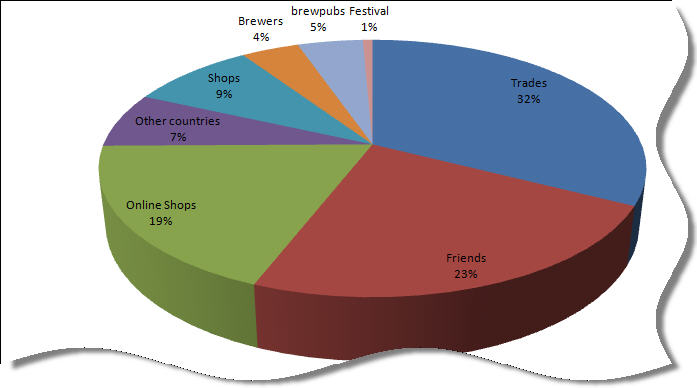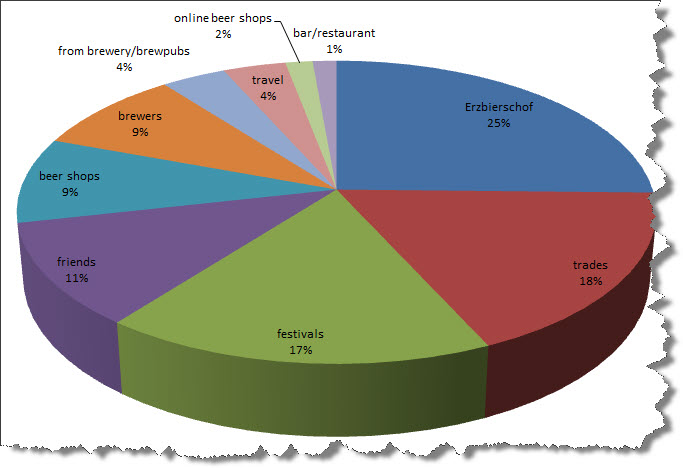 Some comments about this graphics:
Firstly it is obvious that there are some big differences between those 2 years. The birth of the fantastic Erzbierschof bar/shop has turned things around and I am trading and buying online much less than before. Then, as you can see it easily, I'm not a festival guy (2013 was kind of an exception). It's not that I don't like them but just because I don't have enough time on my hands (yes friends, chess, work, .)
There are plenty of good beer shops in Switzerland. Here are some I got my beers from: Bier-Bienne, Mise en Biere, Drinks of the World, Au Grain d'Orge, Amstein, Bierladen Schwarzenburg,....
Do you have any rules in this beer hunting activity ?
Every beer rater may have his own rules. Some people do not rate non-alcoholic beers, others count a beer only if they drink a all pint (or as most british beer tickers a half) of it, and so on. Personally, I don't have rules on the quantity needed to count a beer as new. I drink enough to be able to take notes on it. The minimum is usually about 3 ounces (~ 8 cl), then if the beer is good enough (i.e. about more than 12 points on my scale) I finish the bottle. Otherwise it ends up in the sink ... I do count non-alcoholic beers and mixed drinks (like Radler, but only if they are not non-alcoholic). On the other hand ciders, mead and sake are for me a no-go (don't laugh, some people actually count them too). I do not sample homebrews either; the beer has to be produced by a officially registered brewery.
Why wasting your time drinking crap beers as well and not focusing only on good ones ?
There are different reasons for it. Firstly, how am I supposed to know a beer is bad if I don't drink it ? Of course I do have some clues based on its origin, style, brewery and also by looking what other beer raters say about it (though I try to avoid the latter). The fact most of the raters dislike a particular beer doesn't always mean I'll feel the same. The only way to know is to try it by myself. Second reason is the best way to appreciate a good brew is to drink bad beers as well to maintain a reference frame! And finally, well, ... I am a collector! Even if I'm considering myself a reasonable one. I'm not insanely focused on numbers and I'm not considering this hobby as a race (a lot of people are much better at that around the world). What I try to get is a decent overview of the world of beer and this can only be reached by drinking crap beers as well.
Is your hobby expensive ?
Well, sort of ... I would say the yearly budget hovers at about 4000 to 6000 EUR.
What is the definition of "craft" and how big is the market share of craft breweries in Switzerland?
This word is totally over-used and it seems as everybody has his own definition of it. After providing fodder for debate in the USA since almost 20 years, it is now also omnipresent on the Swiss market. And the lack of official definition makes abuses (like Cardinal Brunette and Rousse) possible.
Craft is sometimes defined as the opposite of industrial which for me is insufficient and inexact. I am not convinced either by the definition from the american Brewers Association (see https://www.brewersassociation.org/statistics/craft-brewer-defined/) who looks at it under 3 criteria: small, independent and traditional.
The problem of this definition is already pointed by the constant adjustment of "small" (needed to include the Boston Beer Company, 5th biggest brewey in the USA) which has now been fixed at a maximum of 6 million barrels (~ 7 mio. hl). This is about the double of the entire Swiss beer market and it disqualifies only 3 US breweries: Anheuser-Busch, Miller Coors and Pabst. This shows how pointless the size criterium is. I have also troubles seeing the relation between traditional and craft. All those criteria are inflating the declared market shares of craft breweries in the USA at 19%. Regarding the inclusion of breweries like Yuengling or Spoetzl I do have some troubles to consider this number very seriously.
If this definition would be applied to Switzerland, we would do better than the USA with 21.5% of the market being made up of craft swiss beers. Anyone believing in such a thing ?
I prefer by far the definition given by RateBeer, even if this one leaves some room for interpretation. Here is what it says:
"- Craft Brewing is not a term certifying quality.
- The business is structured around a brewer/owner and is independent.
- It distinguishes itself from national Traditional Brewing by brewing beer styles inspired by a global culture and not just local tradition.
- The brewer is a visible company figure who is known by many consumers. The brewer has a relationship with consumers and this translates into better serving consumer tastes.
- Primarily focuses on local consumers, local sales and tastes. A craft brewer will have local spirit.
- Engages in human-scale rather than corporate-scale business practices.
- A lack of reliance on a fixed line of products or flagship.
- Creative brewing or lack of adherence to traditional brewing styles.
- It distinguishes through the use of quality ingredients and the targeting of complex, highest quality flavor profiles"

Then RateBeer defines some other brewing genre categories which are not Craft Brewing: Industrial Brewing (ex. Anheuser-Busch/InBev, Carlsberg, Heineken), Belgian Traditional (ex. Cantillon, Westvleteren, 3 Fonteinen, Rochefort), English Traditional, German Traditional, ...
Taking this definition into account, the market share of the craft breweries in Switzerland can be (not easily) estimated at 1.8%. Note that this is less than the market share represented by microbreweries with a production below 5'000 hl (2.7%) because many of them qualify as German Traditional and by no means as craft.
What was your first beer ?
The first I drank may have been some cheap lager from France - la Meuse - a brand gone long time ago. The first one I put on my list was a Belgian beer but I cannot remember which one.
What is your favorite beer ?
The most original question ever ... Well I could point out my statistic page to give you an answer. But I prefer to quote something I read once on the internet (Author unknown): "Someone who has one favorite beer doesn't like beer at all".
Your favorite beer style ?
I could give you the same answer as above ... Let me give you some: Imperial Stout, IPA (including Black and Imperial), Sour Ale and Lambic.
Your favorite hop ?
That's a hard one. I really like herbal ones like Warrior and Nugget and fruity ones like Sorachi Ace and Nelson Sauvin.
Beers to drink before you die: 3 beers you haven't had yet ?
Russian River Pliny the Younger, Tshinvalskiy Osetniskoe Oy Plotnosti (from South Ossetia because new country ticks are important) and BFM Abbaye de Saint Bon-Chien 1967 (because dreaming is allowed).
Beers to drink before you die: 3 beers you already had ?
Huerlimann Samichlaus Bier, Rodenbach Alexander and Brasseurs Savoyards la Cordee Brune (the last one only with Laurent Mousson).
Curriculum cerevisiae
1987: I discovered in Bruxelles that beer was not just a pale golden, fizzy and tasteless liquid. This was the starting point of my ¨"career" as a beer hunter.

1996: Start of my homepage (yes, the one you are just visiting) where all the beers I have tasted are published.

1999-today: Author of the online "Switzerland Beer Guide" where I am listing and (if possible) rating all the Swiss breweries officially registered at the Swiss federal Customs.

2000: I began to rate on RateBeer where I have been the first to reach 1'000 beers and was long active there also as an admin.

2006-2007: I wrote some papers in the "Courrier de l'Orge", Bulletin of the "ABO", a Swiss organisation of beer consumer

2008: Judge at the "Schweizer Bier des Jahres" contest

2009: Judge at the "Schweizer Bier des Jahres" contest

2009: 1k Swiss beers rated

2010: Judge at the "Schweizer Bier des Jahres" contest

2011: Start of my beer blog

2012: Judge at the "MBière Greg Noonan" contest in Montreal

2013: 2k Swiss beers rated

2014: Collaboration for the book "Bierwandern Schweiz" from Monika Sax

2014: 10k beers rated

2015: 3k Swiss beers rated

2016: Judge at the "Lausanne Beer Celebration" contest

2016: Judge at the "Brau- und Rauchshop" contest

2016: Wrote the introduction of the book "Brasseries & Bières Artisanales de Suisse Romande"

2017: 4k Swiss beers rated

2017: Judge at the "Brau- und Rauchshop" contest

2017: Judge at the "Artisa'Malt Beer Challenge"

2018: Judge at the "Lausanne Beer Celebration" contest

2018: Judge at the "Brau- und Rauchshop" contest

2018: 5k Swiss beers rated

2018: 15k beers rated

2018: Judge at the "Artisa'Malt Beer Challenge"

2018: Judge at the Swiss beer sommelier championship

2018: more than 1k Swiss beers rated in one year (1018)

2019: I left Ratebeer and migrated all my ratings (except about 2000) to Untappd

2019: Judge at the contest "Salon de la Bière, Conthey"

2019: Judge at the "Brau- und Rauchshop" contest

2019: Judge at the "Swiss Beer Awards" contest

2019: 6k Swiss beers rated

2019: Judge at the "Artisa'Malt Beer Challenge"

2020: Judge at the "Brau- und Rauchshop" contest

2021: 7k Swiss beers rated

2021: Judge at the "Brau- und Rauchshop" contest

2021: Judge at the Swiss beer sommelier championship

2021: 20k beers rated

2022: 8k Swiss beers rated

2022: Judge at the "Brau- und Rauchshop" contest

2023: Judge at the contest "Salon de la Bière, Martigny"

2023: 9k Swiss beers rated

2023: Judge at the "Brau- und Rauchshop" contest
Back home