Fischer Adelscott

- The Different Beer -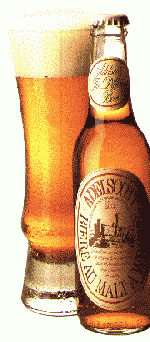 The brewery
Fischer was founded in 1821 in Strasbourg (in the Northeast of France) by Jean Fischer. Enjoying a good reputation and growing quickly, the brewery moved to Schiltigheim in 1854, a site reputated for the good quality of its water.
In 1922, Fischer absorbed its neighbour, the brewery Adelshoffen, and made the Groupe PÍcheur (the french translation of the german Fischer). Fischer has constantly shown a great spirit of innovation. The brewery frequently announces new products. If the results are, in my opinion, not always of great quality (to say the least if you consider beers like Desperados, Kingston, 36.15 or the new Kriska ...), they have nevertheless the merit to challenge the palate of the beer drinkers. The president, Michel Debus, was the instigator of the justice action which resulted in the abolition of the german Reinheitsgebot at the European Court.
The Groupe PÍcheur has been absorbed by Heineken in 1996. Consequences of this, of course, have been quickly noticeable: Heineken announced the closing of Adelshoffen in September 2000.
The beer
Also known as "The Different Beer", Adelscott started back in 1982. It took the Adelscott five years to conquer the french and foreign markets. In 1987, the beer, being produced at 80'000 hectoliters, was considered as a real success.
Adelscott was the first beer flavored and coloured by peat-smoked whiskey malt. Since then, it has inspired enough breweries to make this a sub-category among the smoked beers.
Adelscott is a caramel-coloured lager. Its head is small and diminishes quickly. It has a deep, salmon-like, smoky aroma with fruity notes. The sweetness is well balanced by a smoked bitterness. The finish is dry and moderate with a touch of acidity.
love it or hate it
As this beer is not exactly the best example of balance, it is very differently appreciated. Personally, as Adelscott came out when my love for beers started, it is connected with a lot of nice events in my memory. So it could, eventually, maybe, just a little bit, skew my legendary objectivity. Here some comments from the (amazing few) ratings of the Ratebeer.com users: