February 2014: Schuum (BE), Rud Bir (TI) and R. Kahn (VD). Closed: Brewery Heaven (ZG), Usterbraeu (ZH).

January 2014: Stollo's Best (AG), the Brewfactory (BL), Schlugg (BS), Landskroner Bräu (SO), Bioadventures (TI) and Stahlgasse (VS). Closed: Ammoniten (AG), Bierwerk Bern (BE) and Tuttwil (TG).

December 2013: Aarmuehle, Chruepfe Braui (BE), Carlsberg Supply Company (GL), la Comete, Père Porret (NE), Huisbraui Portmann (OW), Rheinfall-Brau (SH), Chasperlibräu, Urben Braeu (ZH). Closed: Mordicus (BE).

November 2013: Buechler zu Maegenwil (AG), MarRei (BE), Brisenbraeu (NW), Drei Tannen (SO), Innerthal (SZ), Chupferbraeu (TG). Resurrection: Hansibraeu (AG). Inactive: Jetzer(BL). Closed: Brasserie Artisanale du Bourg (FR), Mausacker (TG), Bolliger, Brigitta's Bierschopf, Sirius (ZH).

October 2013: Stahler Bier, Wipfli-Bräu (LU), Schneider Braui (SG). Closed: l'Enclave (FR).
featured brewery
Brüll! Bier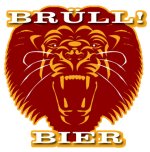 Founded in 2009
8303 Bassersdorf (ZH)
registry number: 355


list of beers
my ranking: 24 out of 204