July 2014: Deux Souris (NE) and Brasserie des Gros (VD). Closed: Schnitzli (BL), Schybi-Bier (LU) and les Faiseurs de Bière (VD.

June 2014: AabachBier, CVL Brewers (AG), Braumanufaktur Schnack Bier (BE), Buusner Bräu (BL), Association des brasseurs artisanaux de Genève, Schori'S Beer (GE), Lozärner Bier, Sankt Maria (LU), Brasserie du Manoir (NE), Heini-Bier (SO), Rigi-Gold (SZ), Zwitscherbier (TG), Brass-Art (VD), Darkwolf Brewery and Maltman's (ZH).

May 2014: Simmentaler Bier, mon oeil, Monkeybrain, Bieres&Co (BE), Brasserie des Coudres (GE), HERMANN Bier (SG), Schlossbier (TG) and Birra dei Nani (TI). Closed: die Heimbrauer Fassbinder & Partner (ZH).
featured brewery
Unser Bier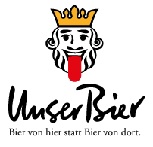 Founded in 1997
4053 Basel (BS)
registry number: 83


list of beers
my ranking: 117 out of 219